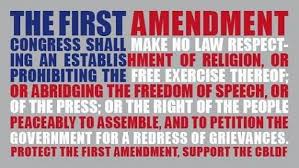 "Freedom of the press is guaranteed only to those who own one."                                                                      A.J. Liebling
Today's headline – "Viral Fake Election News Outperformed Real News on Facebook in Final Months of the U.S. Election" – got me thinking about how we got to this dangerous place.
Many years ago, while in college, I remember a Sociology professor discussing then new statistics that showed, for the first time, more people were getting their news from TV than from newspapers. He made the point that TV news pieces were by definition brief and that the deeper analysis offered by newspapers would fade. He described this as a danger to democracy.
In those days, TV news departments were seen as a public service. As time went by, that value was decayed by networks and stations whose values shifted to profit as their business became more competitive.
Almost two decades ago, in 1999, Marc Gunther authored a report for the Nieman Foundation.  Titled, The Transformation of Network News: How Profitability Has Moved Networks Out of Hard News, Gunther opened the document with these words:
"Twenty years ago, there was no network news "business." The Big Three broadcast television networks—ABC, CBS and NBC—all covered news, but none generally made money doing so. Nor did they expect to turn a profit from news programming. They presented news programming for the prestige it would bring to their network, to satisfy the public-service requirements of Congress and the Federal Communications Commission, and more broadly so that they would be seen as good corporate citizens.

"Back then, the networks earned enough money from entertainment programming that they could afford to run their news operations at a loss. And so they did. Former CBS correspondent Marvin Kalb recalls Owner and Chairman William Paley instructing news reporters at a meeting in the early 1960's that they shouldn't be concerned about costs. "I have Jack Benny to make money," he told them.

"It is no exaggeration to say that just about everything has changed since then. Today, ABC, CBS and NBC operate in a competitive environment in which most viewers have dozens of channels from which to choose."
As the cable networks grew, news and opinion began to blend. Viewers could choose their own reality from cable stations like Fox and MSNBC. News became immediate…faster still with the rise of Facebook, Twitter and other social media sites.
Now back to A.J. Liebling.  With the rise of the Internet, his famous quote about freedom of the press belonging to those who owned one was stood on its head.
We now live in a world where – through our computers – we all own a press.  Is what I've written in this blog – or what you read in any other blog or posting – fact or fiction?  How do you know without becoming your own fact checker? As we accept what fits our inclination rather than a solid reality, our common bonds, based on truth are frayed.  The accidental sacrifice of accuracy for speed has, for some, become a tool to create alternate reality…and a path to power.
And so, today, we have fake news outperforming real news on the Internet.  It's not an accident.
Does it matter?  Of course.
In a democracy, we make our decisions based on what we believe…and those decisions have very real implications for us and for the world.
Here is what four of the people who made America great had to say about freedom of the press…

"No experiment can be more interesting than that we are now trying, and which we trust will end in establishing the fact, that man may be governed by reason and truth.  Our firse object should therefore be, to leave open to him all the avenues to truth.  The most effectual hitherto found, is the freedom of the press.  It is, therefore, the first shut up by those who fear the investigation of their actions."     Thomas Jefferson
"Whoever would overthrow the liberty of a nation must begin
by subduing the freeness of speech."             Benjamin Franklin
"The freedom of the press is one of the great bulwarks of liberty, and can never be restrained but by despotic governments"
George Mason
"Freedom of the press is not an end in itself but a means to the end of a free society."                                        Justice Felix Frankfurter
Our nation is coming through a campaign where the news media was described as corrupt and disgusting by now President-elect Trump. His supporters spat upon and threatened reporters.
As we move forward into the new administration, another quote from Thomas Jefferson should be ever present in our thinking and actions:
"To preserve the freedom of the human mind then and freedom of the press, every spirit should be ready to devote itself to martyrdom; for as long as we may think as we will, and speak as we think, the condition of man will proceed in improvement."
Thomas Jefferson
So, in an era of vastly multiplied news sources and resulting economic decline of our long-established sources, we must protect our first amendment rights more than ever before and find new ways to be vigilant  against those who would assault them to achieve greater control.
We look to – and expect – our new President to protect those values.